Description
I decide the title of a painting by working on it. The more I work on this one I want to call it " Moving Abroad". Loving the adventure, the challenge and the unknown. From the streets, you walk on to the food they eat there.
The hand on the right corner is getting used to eating with your hands in your new country..
This is an original painting created with professional, conservation quality art materials, protected under the copyright laws and may only be reproduced with permission in writing from the artist.
Title: Moving Abroad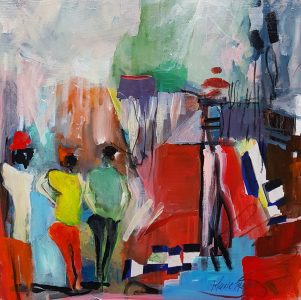 Size: 20×20
Medium: Acrylic on canvas
Price: $475
Marie Manon